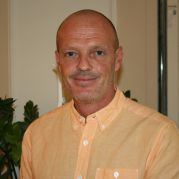 We are delighted to announce that Phil Meads from Elements of Nature has joined our BIOTOP team of specialist pool partners in the UK. Phil is based in Kent and he has run a successful landscaping business in the area for over 13 years.

Phil's interest in water began with his love of creating high spec' Koi Pondsfor clients.  It was one day last summer when he was returning from a project, that Phil saw a Woodhouse Natural Pools liveried van go by. Phil was captivated by a photo of a stunning natural swimming pool, displayed on the van as it past him on the road.  This chance sighting inspired Phil to find out more about natural swimming pools and he came across some news reports about BIOTOP's involvement in the UK's first public natural swimming pool @Kings Cross in London. And so, he contacted BIOTOP to see if he could apply to be a partner.

Phil has just completed his period of intensive training at BIOTOP's Head office in Austria. He is currently working alongside some of our UK partners on a number of pool projects, to hone his construction techniques.

Commenting Phil said, "Having been in the landscaping industry for many years, I fell in love with the idea of creating natural swimming pools, as they are such a beautiful addition to a garden landscape. I wanted to be able to create that natural pool dream for my clients.  After researching it became clear that BIOTOP were streets ahead of the competition in terms of quality and technology and so I wanted to work for the best.
"Having spent time training at BIOTOP's Head Office in Vienna and learning how their technology ensures customers receive the highest quality pool designs and crystal clear water, I am now looking forward to producing some stunning natural swimming pools for my customers in the Kent region."
Phil can be contacted via www.elements-of-nature.co.uk or Email:  phil@elements-of-nature.co.uk