Technical components
---
Biological Compact Filter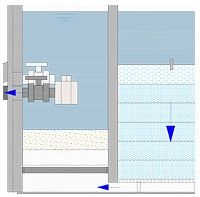 The water in the Natural Pool is filtered by plants, micro-organisms and zooplankton. A biological compact filter can be used to assist in the process, which makes sense if there is not enough space for the regeneration zone in the garden. The ideal ratio of swimming area to regeneration area is 1:1.
---
Submerged Pump Chamber
BIOTOP has a pump chamber that boasts a completely new design to ensure proper water circulation. The submersible pump is installed in a flooded pump chamber. The water flows into the pump chamber naturally and is not "sucked in" by the pump. The submersible pump sits on the floor of the pump chamber and transports the water into the Natural Pool through pressure lines.
---
Curved Screen Skimmer
The curved screen skimmer is a milestone in skimmer development. The water flows over a curved screen with a mesh size of only 0.3 mm. The advantage here is that the screen catches even the smallest of impurities and mucilaginous algae. The impurities are removed from the system before the nutrients they contain are released back into the water.
The screen is self-cleaning, as the impurities are washed to the bottom. A cleverly-devised mechanism regulates the water flow via a moveable skimmer flap that always allows exactly the right amount of water to flow over the screen.
---
The Phosphorus Filter "PhosTec UPSTREAM"
The PhosTec Upstream phosphorus filter binds the phosphorus dissolved in the water — the main promoter of algae growth — efficiently and without the need for chemicals. This causes the algae in the water to "starve". The water flows through the filter from top to bottom, thereby minimising the risk of the filter becoming clogged.
---